Bahía Dorada Urbanization
The Bahía Dorada Urbanization with a total area of 240,130 square meters is located on the western side of the municipality of Estepona, just 8 kilometers away from the historic center and within the province of Malaga, on the Costa del Sol.
It is an urban complex located on both sides of the N-340 road (currently A-7) at kilometer 149, and its planning combines the importance of reserving large spaces for the community, preserving the orientation of the different houses for achieve the highest degree of intimacy between them.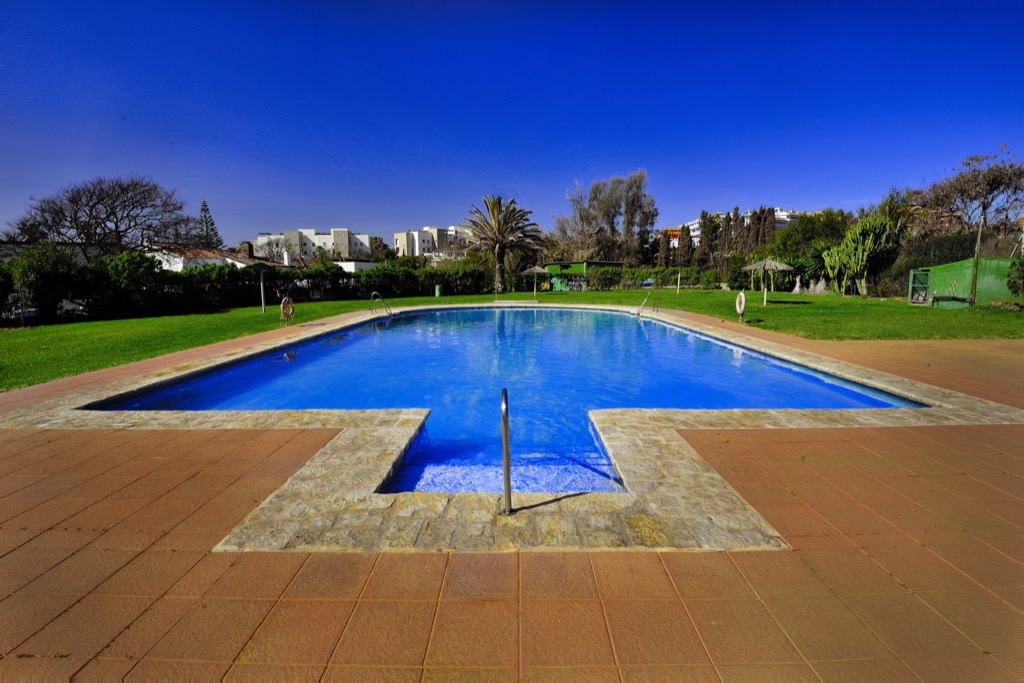 Artificial grass tennis court tenis hierba artificial
Pools available depending on the season of the year
In the 1970s, the prestigious and renowned architect Aubrey Marcus David, designed and projected the urbanization trying to adapt the popular Mediterranean architecture and avoiding the maximum allowable buildable area, preserving the coherence and unity of the urban complex looking for a design of spaces public and the separation of traffic that makes this urbanization a very accurate interpretation of what occupation should be on the coastline.
The Bahía Dorada model meant an architectural reference serving as a model and reference for later application in other urbanizations on the Costa del Sol.
The configuration of its large parking areas for vehicles, allows access to the homes thanks to its pedestrian paths that are distributed throughout the complex, housing large garden areas and a total of 6 community pools along with its grass tennis court. artificial.
WHY STAY AT THE BAHÍA DORADA URBANIZATION?
The location of Bahía Dorada is exceptional Its views of the sea, its proximity to the golf courses, its private parking or its six swimming pools could be enough reasons to spend your holidays in this residential complex close to Marbella, Gibraltar and Sotogrande.
Our accommodation has 3 rooms with capacity for 6 people and located on the beachfront. It has spectacular views in unbeatable facilities where relaxation will be your main companion.
Its proximity to Malaga airport, and only 8 kilometers from Estepona make Villa La Encina the best option for a tourist rental in Estepona. The house is fully equipped, it even has a fireplace that in winter will give that warm touch to your holidays in Estepona.